Lightweight Soldering iron with a high heat capacity. Optimal for soldering work where a high amount of heat is required. Such as chassis, large connector, transformer, stained glass work etc.
Superior heat conductivity
T19 series soldering tips feature an redesigned appearance and internal structure that deliver improved heat conductivity. Use these soldering tips to achieve great heat recovery without increasing power consumption.
Test criteria
| | |
| --- | --- |
| Measurement method | A thermocouple is mounted on the tip and the tip temperature is measured when soldering Φ1.6mm×5mm solder to paper phenol copper board once every 3 seconds. |
| Board | Paper phenol copper |
| Tip shape | Shape-5D |
| Solder | Lead-free solder ( Sn / Ag / Cu ), diameter: 1.6mm |
Compact and light weight
FX-601 has excellent heat recovery but is compact, light weight and well-balanced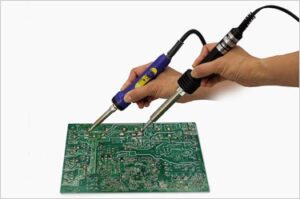 Comparing with the conventional heavy duty iron,
FX-601 is easy and simple to handle.
LED informs you when the set temperature has been reached.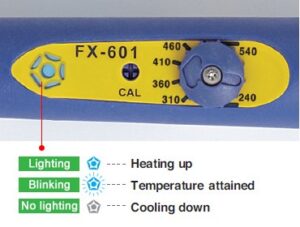 Turn CAL to have more accurate temperature
Adjust the temperature easily with the control knob
Features a temperature controller built into the grip.
Easily adjust the temperature with a simple turn of the knob.
* Accurate temperature control performed even outside the scale.
Detach the control knob and lock the temperature setting
Temperature setting can be locked by removing the central screw and detaching the control knob.
After detaching the control knob, you can change the temperature setting using the dedicated lock key.
* Designed so that the temperature setting can not be easily changed without using the dedicated lock key.
How to remove the control knob
* To avoid any damage to the head of the small screw on the knob,
use a Phillips screwdriver #00 to remove or tighten it.
Adjustment using the lock key
Change parts to convert your FX-601 into an FX-600 that's optimal for soldering electronic parts!
Reduce costs by converting to either model using interchangeable parts (Tip enclosure/Nut/Soldering Tip).
Note:  It is possible to use the T18 Soldering iron tips with the FX601 using conversion piece B3730